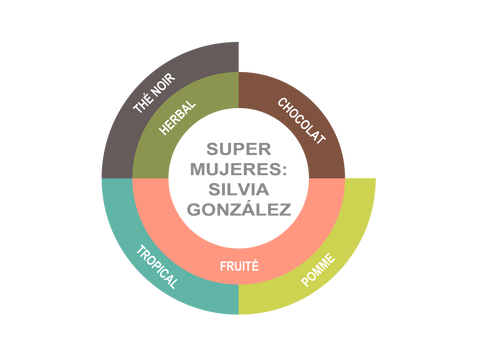 Description
---
The Alliance for Coffee Excellence was pleased to host the auction of the Super Mujeres 2022 private collection. This auction highlights the great work of women coffee growers in Nicaragua. With this APC, they wanted to highlight that in Nicaragua, women coffee growers are Super Mujeres! They are the ones behind the quality of coffee, and the empowerment of their families, which raise the country ever higher through their efforts, dedication, and fair and complementary work. All that makes equality a reality to continue building a society where work is distinguished by the egalitarian quality of achieving excellent results.
This lot produced by Silvia González came out 11th in this great auction!
The Super Mujeres are the women who define Nicaragua. They are the women who allow the reinforcement of values such as the work for equality, love, and unity of families in the country of Nicaragua.
UCA Miraflor was founded in 1992 under a cooperative model promoting diversified agroecological production and the protection of the territory. By obtaining the status of a nature reserve, Miraflor Moropotente also incorporates the first community-based ecotourism model in Nicaragua. Currently, UCA Miraflor is made up of 12 grassroots cooperatives located in 36 communities in the protected area and works with more than 400 small producers, many of whom are women and youth, including Silvia González.
The women members of the cooperative have achieved a degree of empowerment, now working alongside the male members. The government has also gradually provided the cooperatives with necessary social infrastructures, such as child development centers, schools, and health centers, to enable the women to fully integrate.
Maragogipe is descended from the Arabica variety. Originally discovered in Brazil, it is now produced in several other South American countries. The particularity of this variety is that the coffee beans are up to 3 times larger than other beans. The plantations of this variety have a lower yield, so it is rarer. It is thus a coffee of exceptional quality. It is generally a mild coffee, with spicy notes, as well as touches of melting chocolate and orange marmalade.
With this micro-lot, you will be able to taste a fragrant, but balanced coffee, with notes of tropical fruits, apple, and chocolate, with a lively but stable acidity, and a creamy body that is persistent in the mouth and notes of black tea.
Profil
Torréfaction

Flavors
Fruits tropicaux, pomme, thé noir & chocolat
Variété botanique
Maragogipe
Traitement
Lavé
Origins
Producteur
Silvia González
Altitude
1000-1450 m
Région
Esteli, Nicaragua
---