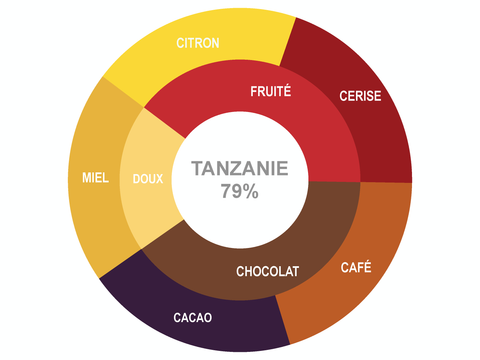 Description
---
Silver medal winner at the 2021-2022 International Chocolate Awards!
The cocoa used to make this chocolate comes from Tanzania, from the village of Mbingu. It is the social organization Kokoa Kamili that buys the beans from surrounding producers at a fair price that allows the export of this exceptional cocoa through a very strong social mission.We invite you to visit their
website
to learn more about their approach.
VERY IMPORTANT
Note that nothing has been added to the chocolate and that the fruit aromas you will taste come directly from the bean.
View the award certificate won at the 2022 International Chocolate Awards
Profil
Flavors
Cerise, café, citron, banane, miel, cacao
Origins
Producteur
Kokoa Kamili
Région
Village de Mbingu, Morogoro, Tanzanie
---