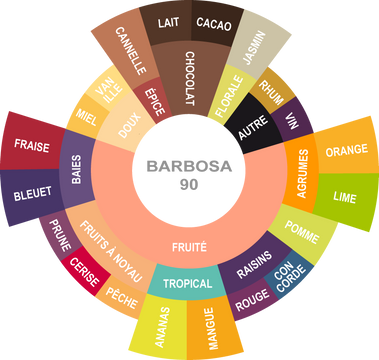 Description
---
This coffee was produced by the one and only DBarbosa Coffee, a great Brazilian coffee producer that has been collaborating with us for over 10 years now. We are more than happy to announce that we got our hands on their number 1 in Brazil batch, the Barbosa 90!
The tradition of coffee production has been in the Barbosa family since the first decade of the 20th century. The ancestors of Vitor Barbosa (owner and producer) have passed on their coffee heritage from generation to generation. Starting with his great-great-grandfather, Elias Barbosa, then his great-grandfather, Claudio Barbosa, up to his grandfather, Jairo Barbosa, and now with his father, Danilo Barbosa, himself a fourth-generation producer. So we can say that after 100 years, the Barbosa family knows how to produce real quality coffee. The famous Barbosa 90 was produced on the Fazenda Cachoeira farm, acquired in 2005 by DBarbosa Coffee. This farm is the apple of the eye when it comes to specialty coffee production, known worldwide for its simply inimitable batches. The manager of this farm, Miriam Aguiar, deserves all the credit for the wonderful Yellow Catuaí she produced, which won first place in the Cup of Excellence Brazil 2021 with a remarkable score of 90.50 points.
This natural Yellow Catuaí named Barbosa 90 offers a cup that you will not taste anywhere else in the whole world. It all starts with beautiful, round, and primary notes of cocoa and chocolate. That later transforms into a sweet, ultra-fruity explosion of strawberry, apple, blueberry, cherry, grape, mango, and pineapple. That ends with a perfectly balanced touch of cinnamon, wine, rum, and jasmine with a final citrus sting that balances it all out perfectly.
Profil
Torréfaction

Flavors
Cacao, chocolat au lait, fraise, pomme, bleuet, cerise, cannelle, vin, raisin, rhum, mangue, jasmin, lime, orange, ananas & vanille.
Variété botanique
Yellow Catuaí
Traitement
Naturel
Origins
Producteur
DBarbosa Coffee
Altitude
1100 m
Région
Cerrado Mineiro, Minas Gerais, Brésil
Infusion
Dose (g) : 20g
Temp. Infusion (F) : 201F
Qt d'eau (ml) : 340ml
Ratio (café/eau) : 1:17
Durée totale (min) : 3:35
---