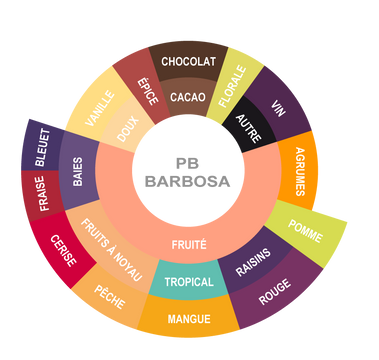 Description
---
The producer and owner of DBarbosa Coffee, Vitor Marcelo Queiroz Barbosa was born in 1981. It was at the age of 14 that he decided to work on the farm with his father, who is also his mentor. Descendant of a great lineage of Brazilian coffee producers. The tradition of coffee production has been in the Barbosa family since the first decade of the 20th century. So we can say that after 100 years, the Barbosa family knows how to produce real quality coffee. The PB. Barbosa was produced on the Fazenda Cachoeira farm, acquired in 2005 by DBarbosa Coffee. Known worldwide for its exceptional batches, this farm is in fact the same farm that produced the best coffee of the year 2021 at the Cup of Excellence Brazil, the Barbosa 90. This coffee is the same coffee as the PB. Barbosa but with bigger beans. So, you will have the chance to taste the miniature version of Barbosa 90!
This natural Yellow Catuaí offers a cup you won't taste anywhere else in the world. It all starts with the beautiful, round and primary notes of cocoa, and chocolate that later transforms into a sweet, ultra-fruity explosion of strawberry, apple, blueberry, cherry, grape, mango, and pineapple with a perfectly balanced touch of cinnamon, wine, rum, jasmine, and a final citrus acidity that balances it all out perfectly.
Profil
Torréfaction

Flavors
Cacao, chocolat au lait, fraise, pomme, bleuet, cerise, cannelle, vin, raisin, rhum, mangue, jasmin, lime, orange, ananas & vanille.
Variété botanique
Yellow Catuaí
Traitement
Naturel
Origins
Producteur
DBarbosa Coffee
Altitude
1100 m
Région
Cerrado Mineiro, Minas Gerais, Brésil
Infusion
Dose (g) : 20g
Temp. Infusion (F) : 201F
Qt d'eau (ml) : 340ml
Ratio (café/eau) : 1:17
Durée totale (min) : 3:35
---