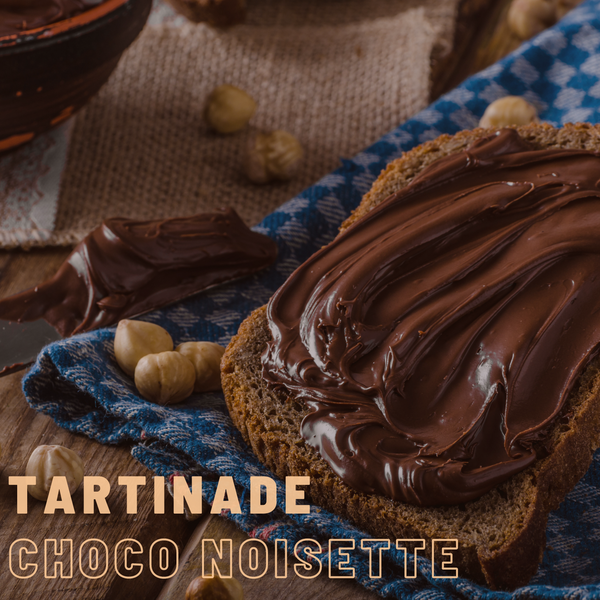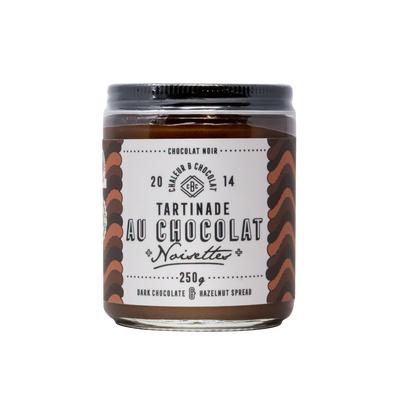 Description
---
Here is our Hazelnut and Chocolate Spread, with our interpretation of a classic spread that rocked our childhood.
Our version is made with noble ingredients to make it a quality gourmet version, without the guilt. Carefully roasted hazelnuts, chocolate made entirely in our workshop from cocoa from our own private importation (maximum transparency), quality cane sugar, unbleached and certified organic, canola oil from Quebec.
Our spreads are palm oil free, no industrial chocolate from unknown or fuzzy cocoa, no artificial emulsifier (soy or sunflower lecithin). We are very proud of it!
We have declined it in two variations:
Dark chocolate: Simply extra chocolate. Our interpretation of the classic in a dark chocolate version.
Ingredients: Hazelnut, dark chocolate (cocoa liquor, sugar, cocoa butter), sugar, natural cocoa powder, canola oil, salt
Terroir Gaspésie: We had to find a uniqueness and a personal interpretation to this classic and we decided to take inspiration from what surrounded us, the sea and the mountains. We add in this version of the sweet clover flower, this small wild flower, of a beautiful bright yellow, which grows in the fields at the foot of the mountains and which has a pleasant scent of vanilla. And we finish the refining by incorporating a little touch of wild wakame seaweed which adds a really surprising salty umami side.
Ingredients: Hazelnut, dark chocolate (cocoa liquor, sugar, cocoa butter), sugar, canola oil, sweet clover flowers, dried wakame seaweed
Manual:
Open the jar and spread on anything that can be spread. All.
If a little oil forms on the surface, it is normal, it is due to the absence of lecithin. You can mix everything manually.
If the product hardens over time, this is normal, there is a lot of chocolate in the recipe, simply put it in the microwave for 10 seconds and you will find a superb texture.
---