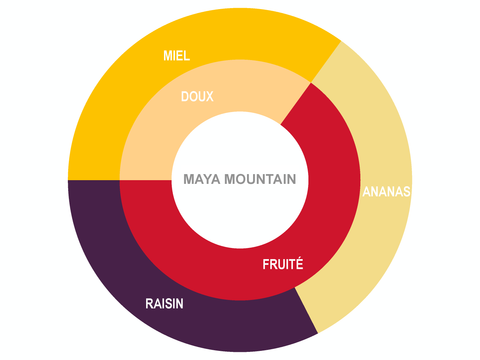 Description
---
Winner of the silver medals of the International Chocolate Awards category World 2020-2021 and Americas 2021-2022!

Maya Mountain 70% cocoa is from Toledo, Belize and is produced by Maya Mountain Cocoa (MMC). The first exporter in the country to produce high-quality cocoa. MMC centrally processes all cocoa in a post-harvest facility where three unique sun-drying steps create optimal flavor. You will be able to taste a chocolate that will give you a glimpse of all the richness and beauty that Belize can bring to a chocolate, and you will only need one bite to understand why the Maya Mountain bar is a world winner.
VERY IMPORTANT
Note that nothing has been added to the chocolate and that the fruit flavors you will taste come directly from the bean.

View the award certificate won at the 2022 International Chocolate Awards
Profil
Flavors
Caramel, miel, noix, ananas, raisin
Origins
Producteur
Maya Mountain Cocoa (MMC)
Région
Toledo, Belize
---